And here's another one…we're at about 2:21 on the right side of the screen. Very quick…we're hardly even there.

I got very energized at last night's rally, but even more so after hearing about how his budget proposal will so underfund public transportation making this a place where basically you have to use a car to get everywhere. So, I decided to make a lot of these. I'm showing pins here, but they're available on a variety of wearables and other merchandise.
It's bad enough with some extreme right-wingers calling us "Union Thugs," but now Wisconsin State Senator Glenn Grothman has called the protesters "slobs*." OK, so take back these words! I've designed merchandise like buttons, magnets, stickers, mugs, clothing, etc. to wear and use proudly while protesting, at home, or on your job. (It doesn't have to be a union job, either…people of all kinds of employment are supporting our efforts to stop the bill.)
See the complete line of my "I Heart…" merchandise at my store.
*He stated this on "The Last Word" with Lawrence O'Donnell on 3/1/11. I saw it. I have also been to the protests on 3 different occasions so far within the last week. There are no slobs. People pick up after themselves. Grothman also said it smelled in the Capitol. I was in the Capitol Building on Friday 2/25/11. It did not smell. In fact, I was surprised how good it did smell. Trust me. I'm really sensitive to stinky things. And the only thing that smells here are the Republican's antics.
…so I could stay longer at the protest. Or I could come back home and ride back on my bike. Feet hurt too much, legs and face were too cold, so we came home. The bus was PACKED…hardly any standing room left going down there. I was hoping it wouldn't break down. I sat on Stan's lap to make room for more people boarding. I felt so energized, I wanted to stay longer. I'll rest up and we can head back again on some weeknight. Not as big a crowd, but we've still got to populate the building and get heard. So many people there…it was massive. Lots of good vibes. I hope Stan can find some old silk long underwear I can wear next time so my thighs don't freeze. Or maybe I'll wear some pjs underneath my pants.
Took a sign that said "I ♥ WI 14 like the ones I sell. On the reverse it was a pic of Scotty in a corner with a dunce cap on his head. It said "CORNERED!" on top, thought bubble coming out of scotty's head saying "Look, ma, no brain!" and a comment on the side saying "Where there's no sense, there's no feeling."
I made another sign that Stan carried like a couple of my recent bumper stickers. I only have two pieces of red clothing, both of which are crew socks, so I wore a pair of those. I need some more red clothing if I'm going to do this more…who knows how long these protests will last.
We picked up stray signs and gave them a good home…a couple AFSCME "It's about freedom" signs we put outside taped over an old lawn sign.
So good to see all the support for all workers this has garnered across the nation.
It's OK to FAIL Scotty, now LEAVE!
If Scott Walker likes the private sector so much, why doesn't he just go work there?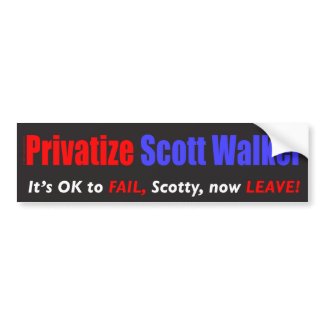 Privatize Scott Walker
by
Ann Stretton
Bumper Sticker idea by Ann and Stan.